Suspension Replacement in Las Vegas, NV
The terrain in Las Vegas, NV is pretty flat, so if you feel like you're riding over every little bump and crack in the road, it's a sign you need suspension repair. Qwest Automotive Service will gladly get your car up on the rack and take a look at what's happening underneath, to fix any suspension issues that might affect the comfort and stability of your vehicle. Whether it's shocks and struts or linkages and bearings, we can fix it right to restore the smoothness of your ride.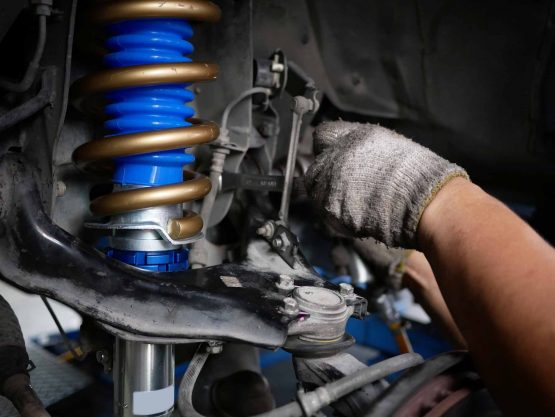 Shocks and struts: The most common type of suspension repair we handle is replacement of shocks and struts. These are the car's stabilizing components, and they can become worn-out over time. We'll swap your damaged shocks and struts for ones that are ready to cushion the road ahead.
Wheels and tires: Need new wheels or tires? Instead of searching high and low throughout Las Vegas, NV, come to us. We'll outfit your car with new wheels and tires, and make sure everything is properly balanced and aligned before you drive off our lot.
Bushings, bearings and joints: Hearing squeaking or feeling vibrations while you drive or turn? Bushings, bearings and joints commonly need servicing, and we're pleased to offer these components as part of broader suspension replacement.
Linkages: Is your vehicle handling rough or giving you problems during cornering? If your linkages are damaged or worn, they might need replacement. We'll get your car up on the rack and make sure its linkages are serviced appropriately.
Get in Touch
Your time behind the wheel should feel like riding on a cloud. If you're bumping, jostling or rattling, give Qwest Automotive Service a call today at 702-641-0100. We're the local experts on your suspension and can repair or replace any damages components to give you back the comfortable feeling that comes with a well-maintained suspension replacement. Contact us for suspension repair, auto tune-ups, AC maintenance, and more.