Exhaust Repair in Las Vegas, NV
Does your vehicle sound like it's on a drag strip every time you step on the gas? Recently failed an emissions test? Exhaust issues can be frustrating, which is why Qwest Automotive Service takes pride in providing complete exhaust repair and replacement services. We're committed to helping Las Vegas, NV drivers resolve persistent emissions issues, so they can drive without worrying about what's happening to their exhaust.
Diagnostic Emissions Issues
If you've failed an emissions test and aren't sure why or have a suspicion that your emissions system needs service, come visit us. We use state-of-the-art diagnostic tools to get to the root of the problem, so it can be addressed correctly. We act on diagnostics to make informed decisions about your vehicle and the best way to care for it.
Exhaust System Repairs
Your exhaust system stretches from your engine to your muffler and covers numerous parts and components in-between. We offer complete exhaust repair services, whether it involves your oxygen sensor, catalytic converter, tailpipe or another component along the way. From loud sounds to failed emissions tests, we solve your emissions problems the right way.
Exhaust Replacement
In older vehicles, exhaust replacement can often be more cost-efficient than repairs. If your entire emission system needs to go, we've got you covered. We're one of the best emission shops in Las Vegas, NV and will make sure your new system meets standards and performs as-expected.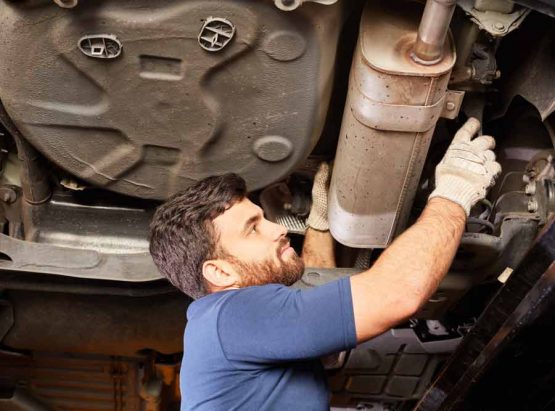 Schedule Exhaust Systems Service
If you're looking for a swift and thorough resolution to your auto exhaust issues, look no further than Qwest Automotive Service for solutions. From diagnostics to pinpoint the issue to a full array of repair and part replacement capabilities, we'll have your vehicle back up to emissions standards in no time. Contact us and call 702-641-0100 to schedule an appointment for exhaust repair, car rentals, and general vehicle maintenance.
Please note that we do not perform emissions testing at our location. We recommend visiting the Nevada DOT website for more information about emissions testing.