AC Maintenance in Las Vegas, NV
We all know how overbearing the Las Vegas, NV heat can be. When you don't want to ride around with the windows down, it's important to make sure your auto AC system is working appropriately. If you're not getting the chilled, comfortable air you deserve, schedule an appointment for AC maintenance with Qwest Automotive Service. We'll have you basking in the comfort of well-conditioned air in no time at all.
Signs You Need AC Repair
It doesn't take a lot to realize that your car's AC system isn't working properly. Schedule an appointment with us if you notice any of the following issues when you crank the AC:
Car takes a long time to cool down
Strange smells or lingering odors
Strange noises such as humming or rattling
AC doesn't work and only warm air blows
These are all signs of a failing (or failed) AC system. We'll get to the bottom of the problem and repair the issue so you're able to enjoy the cool air in your cabin again soon.
Auto AC Repair and Parts
Not every auto shop in Las Vegas, NV offers AC repair. Not only do we pride ourselves in our auto AC capabilities, we stock a wide assortment of common parts and components to ensure we're able to provide repairs quickly when problems arise. Some of the most common components to fail include the compressor, condenser, thermal expansion valve, evaporator and the receiver.
AC Maintenance Service
Sometimes, the simplest solution is the best one. If your vehicle needs an auto AC recharge, we'll gladly perform this service. It takes virtually no time and costs far less than AC maintenance. Often, this is a great solution for older vehicles or those that are consistently relying on AC cooling.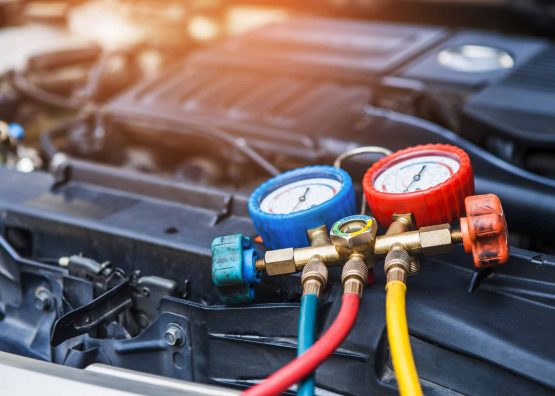 Keep Your Cabin Cool
No one should feel like they're melting behind the wheel of their vehicle. If your AC isn't putting out the cold air you expect from it, schedule service with Qwest Automotive Service today. Contact us at 702-641-0100 and let us know what the issue is, and we'll get to work restoring cool comfort to your cabin. We offer AC repair, exhaust replacement, car rentals, and more.